Haunted by Magic
Author Spotlight!
Joanna Mazurkiewicz was born in Poland. She moved to United Kingdom when she was only nineteen and just finished high school. She had aspired to be a writer upon completion of the Harry Potter series but also enjoyed reading books like 'Gone with the Wind', 'Animal Farm' and 'The doll'. She graduated from Swansea University with a bachelor degree in American Studies. While studying in the UK she made a decision to start writing fiction in English.
The "Whispers of the Sprite" is her first debut novel and she is currently working on the second book in the series. Joanna lives in Cowbridge, a small town in South Wales near Cardiff with her boyfriend Bruce. She enjoys cycling around Welsh countryside some of which has become the settings in her first series.
Sign up for the author's New Releases mailing list and get free ebook of your choice!
http://jmazurkiewiczauthor.com
Joanna's book Sacred Desires is included in the Haunted by Magic box set!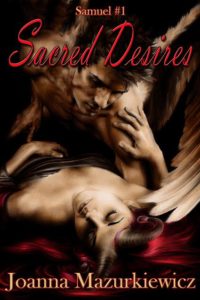 Daniella Clark has lived blissfully unaware of her heritage, but as her true nature reveals itself, a need rises that she cannot control. Her sexy-as-sin neighbor, Owen, eases her carnal heat and introduces her to a world she never even suspected existed.
But the weretiger prime, Erick, wants her for his own. And he is more than willing to fight his second-in-command for the woman he claimed the moment he laid eyes on her luscious form. He will do anything to protect his people, and their future rests in Daniella's hands.
Even as Daniella revels in the sensuality of the weretiger males, she fights to maintain her sense of self. But when old enemies arise, the battle for her heart isn't the only fight they must face. And Daniella will have to decide how much she is willing to risk for the men who want her for their mate.